Garmin Approach S20 GPS Golf Watch
Colour - Grey
Order in ? hours ?? minutes ?? seconds to get this item on Tuesday 25th September
Free UK next
day delivery
On orders over £40
Price match
guarantee
Seen a lower price?
Contact us
Authorised
online retailer
Shop with confidence
Garmin S20 GPS Golf Watch
Slate
The golf watch that fits your game pace
Get all information you need for your next shot from an easy to understand graphical user interface
AutoShot™ game tracker automatically tracks shots

3

along the fairway
Get better guidance during your approach with distances to hazards, doglegs and layups
CourseView feature automatically updates frequently played courses for free
Combines sporty design with activity tracking and smart notification¹
Up to 15h of golf per charge in full GPS mode
Garmin Approach S20 is a sleek and lightweight GPS golf watch that provides more convenience on the course with distances on over 40,000 preloaded courses including hazards plus Green View and the new Garmin AutoShot™ game tracker for detailed game analysis on Garmin Connect™. The watch also doubles as an activity tracker¹ and provides smart notifications² to connect you with your active lifestyle.

Know Before You Swing
Whether you're leisurely playing with friends on your favorite local course or teeing up on that amazing resort course you've always wanted to play, Approach S20 knows on which golf course you are — and how far you are from the next green. The watch's high-sensitivity GPS receiver gives you the distance data you need to fire away with confidence. On the high-resolution display, you'll see distances to the front, back and middle of the green, as well as hazards, doglegs and layups.
There is More to Know About Your Game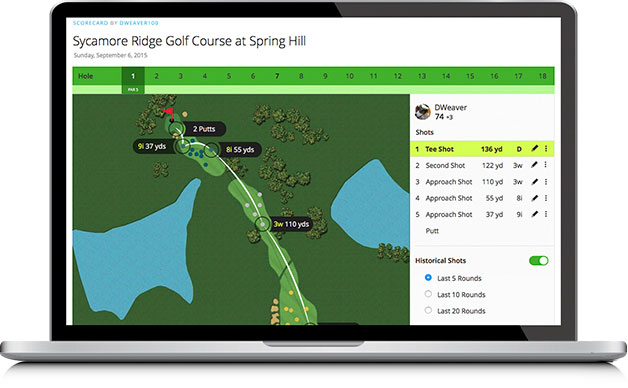 AutoShot™ game tracker automatically tracks shots3 along the fairway and measures distances for post-round analysis on Garmin Connect.
Play More Rounds
Your Approach S20 features a long-running lithium-ion battery to carry you through long rounds or those extra holes. You can easily get in a whole weekend of golf with up to 15 hours in full GPS mode before the battery needs to be recharged. For daily use in activity tracking mode, you can expect the battery to go up to 8 weeks between recharges.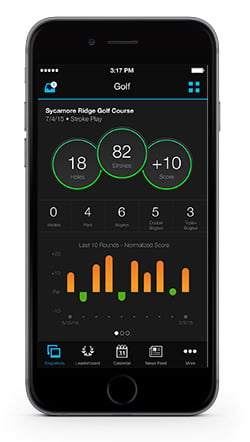 Garmin Connect – Your Golf Community
Garmin Connect is the online golf community that gets you great post-round analysis. Automatically download your round and contrast it to your last round; track improvements to your game for every course you play. The Garmin Connect golf community can even assemble your ideal round, combining your best score for each hole to show you your true potential for each course.

Know the Green
The Green View feature on your Approach S20 shows you the true shape and layout of the green. You can manually reposition the pin to today's location for accurate distances to the hole.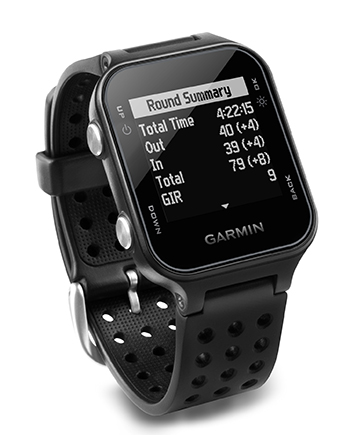 Keep Score Right on Your Wrist
Approach S20 easily keeps track of your score throughout your round. When you're done, you can save, review and even use the Garmin Connect™ Mobile fitness app with your smartphone to upload and share that great round with your golfing buddies online.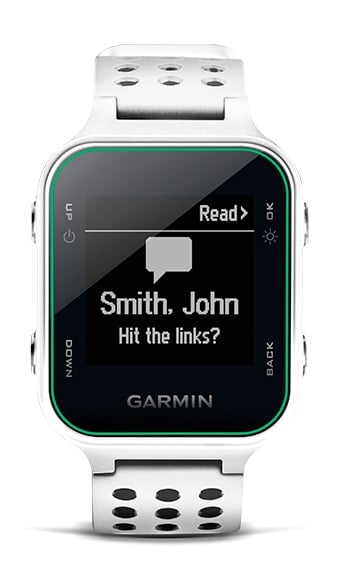 Smart and Connected
Never miss another important text, email or alert during a round, just because your smartphone is tucked away somewhere in your bag. Approach S20 is a smart watch that acts as a wireless extension of your compatible smart phone, displaying smart notifications, right on your watch2. Now, via Bluetooth® technology, you can read that email or text you've been waiting for — even in the middle of the fairway. Approach S20 also provides a great new way to train your swing together with the optional Garmin TruSwing™, it can pair to the sensor for immediate display of core swing metrics on the watch – no smart phone or tablet needed. S20 and TruSwing™ make swing intelligence like face to target, club path and swing speed available to check right from your wrist.
It's All the Watch You Need
As a bonus, the handsomely styled Approach S20 golf watch even tells you the time, so you can wear it as your everyday watch. Durable and water-rated to 5 ATM (50 meters), Approach S20 also features a built-in activity tracker with prompts to help keep you moving toward a healthier lifestyle. And for those who like to walk, there's a built-in odometer to help keep track of how much ground you've covered.
- All items are sent using a tracked and insured postal service
- Orders placed before 2pm will be processed and posted out the same day
- Orders placed after 2pm will be processed and posted out on the next working day
*Orders placed on weekends or bank holidays will be processed and posted out on the next working day
Orders over £40
EXPRESS SHIPPING £2.99 - Gauranteed Next Working Day (Royal Mail /Interlink Express) Insured / Tracked Service
FREE SHIPPING - Gauranteed 2 Working Day Delivery (Royal Mail /Interlink Express) Insured / Tracked Service
Orders under £40
EXPRESS SHIPPING £2.99 - Next Working Day (Royal Mail /Interlink Express) Insured / Tracked Service
Delivery Tracking
All orders are sent using a tracked service, once your item has been processed, you will receive an e-mail stating the courier, the tracking number and the link to the website where you can follow the progress of your delivery
International Shipping
Please contact admin@clarkesgolf.co.uk for an International Postage Quote
For more information please contact a member of our team on 01744 884721 / admin@clarkesgolf.co.uk
Contact Us
Please contact our Customer Service Team on 01744 884721 who will advise or Email admin@clarkesgolf.co.uk
Our customer service opening hours are:
• 9:00am to 5:00pm Monday to Friday
• Saturdays, Sundays and Bank Holidays CLOSED
Return Information
In the event that you are not satisfied with any purchase from clarkesgolf.co.uk, you may return unused goods, along with all original packaging and any labels within 14 days of receipt for a full refund.
You can confirm your intent to return all or part of your order using the enclosed Returns Form. Please complete the form as instructed.
Return shipping costs can only be refunded where we have sent the goods in error.
Item(s) We Have Sent In Error
We apologise if we have sent you any item(s) in error this does not happen often, please contact a member of our team on 01744 884721 / admin@clarkesgolf.co.uk
Return Exclusions
The following goods may not be returned for refund.
• Packs of socks that have been split.
• Packs of gloves that have been split.
• Any socks, underwear or baselayers that have been worn.
• Any device where the Warranty has been registered or additional software has been downloaded.
• Blister packs that have been opened.
Please Note: We cannot accept returns for second hand or custom fit items unless they were delivered faulty.
How To Return
We recommend that you use a reputable courier Parcel Force (Post Office) for larger items and Royal Mail Special/Recorded Delivery for smaller items.
Please ensure your item(s) is sent using a tracked service, we cannot accept responsibility for the returned goods until a member of our staff has signed for receipt of the goods.
Please retain any proof of posting, receipt or tracking number for any item returned as we cannot accept responsibility until a member of our staff has signed for receipt of the goods.
Faulty Goods
All goods come with a 12 month guarantee backed by the manufacturer. If an item is delivered faulty or becomes faulty through normal use then the following action needs to be taken:
For orders received under 14 days, we will offer a full refund or exchange the faulty item.
For orders received over 14 days, but less than 12 months old please contact a member of our team on 01744 884721 / admin@clarkesgolf.co.uk
In some cases where the manufacturer feels there is no manufacturing fault, they may offer to repair the faulty item at your cost, if you accept the offer you will be required to pay for the repair before we instruct the manufacturer to proceed.
Returning Goods that came with a Free Gift
Any free goods that came with the item you are returning for a refund should be returned if unused and in original packaging. If the free gift has been used then it should be kept and the value of the free gift will be taken off the balance that will be given back to you.
Returns Department
Clarkes' Golf Centre
Mill Lane
Rainford
St Helens
Merseyside
WA11 8LN
01744 885294
admin@clarkesgolf.co.uk
Specifications
| | |
| --- | --- |
| BARCODE | 753759153489 |
| Colour | Grey |
| Brand | Garmin |
| Gender | Unisex |